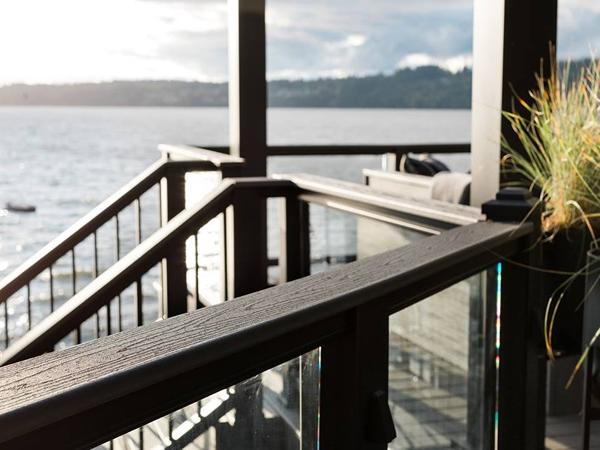 Desire for Personalization and Year-Round Enjoyment; Ushers In New Approaches to Design and Materials.
With the popularity of outdoor living expected to hit its highest peak yet this year*, homeowners across the country will be going all-in for the outdoors in 2018.
Once again, Trex Company, the world's #1 brand of premium decking and railing, has gleaned insights from contractors, homeowners and industry experts to compile its annual outdoor living forecast.
"Among the biggest trends we are seeing is a shift away from seasonality as consumers adopt more of a year-round mindset regarding their outdoor spaces," said Adam Zambanini, vice president of marketing for Trex Company.
"Outdoor living is no longer restricted to spring and summer nor reserved for certain parts of the country. Thanks to new high-performance materials and innovative design approaches, homeowners everywhere are transforming their outdoor spaces into multi-seasonal extensions of their homes."
Following are some of the other top trends that will be dominating the outdoor living landscape in 2018:
Minimal Maintenance, Maximum Enjoyment
Just because people are spending more time outdoors doesn't mean they're willing to put in extra hours for care and maintenance. In fact, high-maintenance materials, such as wood, are seeing a decrease in demand as people are opting for lower-maintenance offerings that deliver better performance and sustainability.
Wood alternatives, particularly composite decking, are expected to experience above average annual gains in demand through 2020. Analysts predict this segment of the decking industry will grow at a faster rate than traditional wood** – and for good reason.
Unlike wood, high-performance composites, such as Trex, resist fading, staining, scratching and mold – and won't rot, warp, crack or splinter.
No sanding, staining or painting is required, and food and drink spills wash off easily with just soap and water. Additionally, Trex decking is made from 95 percent recycled material, making it an environmentally friendly choice for eco-conscious consumers.
Comfy Cozy
Among the hottest design influences right now is "hygge" (pronounced hoo-gah) – the Scandinavian term for a feeling of coziness and comfort. This season, outdoor spaces will beckon homeowners and their guests to relax and rejuvenate with hygge-inspired accents, from plush cushions and throws to protective pergolas and cozy warming features.
Trex contractors also have reported an uptick in requests for its RainEscape® deck drainage system by clients looking to add multi-seasonal living space underneath an elevated deck.
Residential Goes Commercial
With the heightened focus on creating "outdoor rooms," railing is finally getting the attention it deserves as homeowners recognize its role as not only the functional frame of their space but also one of the most visually prominent design elements.
While railing matched to the decking remains perennially popular, an increasing number of homeowners are taking advantage of the complementary decking and railing pairings afforded by new railing materials in modern, metal finishes, as well as sleek designs inspired by commercial architecture.
"Our contractors are seeing more homeowners being inspired by outdoor spaces they find in commercial settings, such as hotels and urban rooftops, and wanting to replicate those looks in their homes," noted Zambanini.
A prime example of this commercial-to-residential trend is the growing popularity of horizontal railings such as rod rail – a sleek, sturdy look that's ideal for customers who like the view-optimizing aspects of cable railing, but with a modern, industrial touch.
Hide & Chic
With the increased usage of outdoor living spaces comes higher demand for chic storage options and privacy.
"Nothing can dampen the view of a gorgeous sunset or the enjoyment of an elegant al fresco gathering quite like unsightly plastic storage, trash bins or scattered tools, lawn equipment and toys cluttering the scene," Zambanini said. "Today's homeowners are interested in both function and design, with solutions that add ambiance rather than detract from it."
Adding beauty to any outdoor space, lattice panels are perfect for enhancing privacy and concealing storage areas or unsightly views.
With styles ranging from romantic to deco, lattice panels can easily be integrated into both new and existing outdoor living spaces and applied to structures such as arbors, trellises and gazebos, or used as decorative wainscoting or deck skirting. It's a clever – and easy – design trick that adds both personal style and functionality to any outdoor living space.
Customized outdoor cabinetry and storage solutions also are available in designs that integrate seamlessly with popular decking finishes. These functional and fashionable components include built-in trash bins and ice chests, as well as sink cabinets and grill bases to hide plumbing and gas hook-ups for a completely finished look.
Fun & Games
Kids are not the only ones who enjoy playing outside! Outdoor play spaces for all ages are on the rise, including everything from swimming pools and embedded sandboxes to regulation cornhole courts, horseshoe pits and dedicated spaces for volleyball, badminton and bocce ball.
Beyond yard games, outdoor entertainment has reached a whole new level thanks to advancements in both equipment and equipment storage. Electronics manufacturers now offer televisions and entertainment systems specifically designed for the outdoors, taking into consideration differences in lighting and outdoor acoustics.
Meanwhile, new storage options include durable wall-mounted television and entertainment centers that beautifully protect pricey electronics from the elements, while concealing all of the unsightly – and potentially unsafe – cords and cables.
To view examples of outdoor settings featuring this year's top trends, visit Trex's Inspiration Gallery at www.trex.com/inspiration/gallery. For more information about high-performance Trex products, go to www.trex.com.
*MarketsandMarkets Composite Decking & Railing Market Report, 2016
**International Casual Furnishings Association Report, 2017